Year 6
Welcome to Year 6
Meet the Year 6 staff
| | | |
| --- | --- | --- |
| Mrs Moran | Mrs Moore | Mrs Proctor |
| Y6 Teacher | Y6 Teacher | Teaching Assistant |
Year 6 SATs Revision
SATs revision guides and practice question books have been given to your child. Please see the letter and timetable below.
Spellings
Week beginning 29.01.18
For a test on 06.02.18
1. determined
2. develop
3. dictionary
4. disastrous
5. embarrass
6. equip
7. equipped
8. equipment
9. especially
10. mischievous
Stockport Air Raid Shelters - March 2018
On Friday 16th March, Year 6 went to Stockport Air Raid Shelters. We also visited the Stockport Museum, where we learnt lots about life during the war.
Science Week - February 2018
We have had a fantastic week celebrating Science across school. We have taken part in a range of activities including a Sublime Science workshop (where we got to make our own slime!), an inflatable planetarium session and a VR experience. We have absolutely loved all of the activities and are looking forward to starting our new Science topic, electricity.
Exotic Animals Come to Year 6! - January 2018
Today Simon and Mark came into year 6 with lots of exotic animals. They came in as part of our science and English topics. We even got to hold some! There were lots of different species: a blue iguana that can drop its tail when in danger; a deadly scorpion (we didn't get to hold this!); two snakes; a chameleon which can change colour for camouflage; and three tortoises.
We all enjoyed their visit and hope they come back again soon. Thank you to Simon and Mark who helped us with our topics and gave up their time to come in to see us.
By Nathaniel Mountain, Charlotte Boggia, and Belle Rose
6BM
Explorer Day - January 2018
On Friday 12th January, Year 6 had an explorer day. This was linked to our new Literacy topic, which is focusing on the book 'The Land of Neverbelieve'. We came dressed as explorers and brought a companion with us for the day (unfortunately not a live one!). We did lots of activities throughout the day. We started with a co-ordinates Maths challenge, where we had to capture different islands based on their co-ordinates and perimeters. Then we moved on to a physical problem solving activity where the floor became a swamp. We then created our own mixed up creatures using a website, inserted the images into a word document and wrote descriptions about them. We also made plasticine models of our creations. We had a great day!
6BM Class Assembly - November 2017
On Thursday 16th November, 6BM did a class assembly about Weslandia (a book we have been learning about since September). Everyone did really well and remembered their lines and when to speak. We all really enjoyed doing it. Mrs Moran was very proud of us and said we did great. ~ Madison and Keira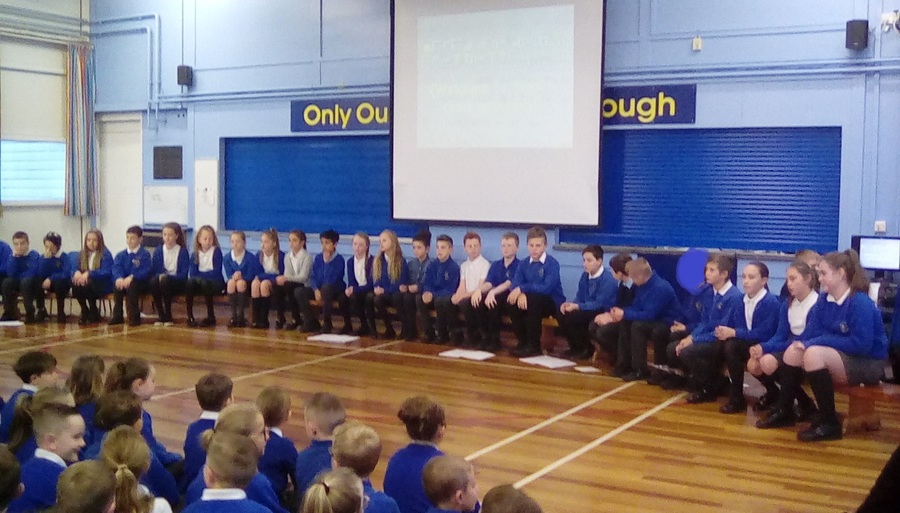 Science - September 2017
Today we started our new Science topic, 'Classifying Critters'. We classified ourselves using a branching tree diagram. We first split ourselves by hair colour. After that, we split ourselves by eye colour. Once we had done that, we could decide what to split our groups by e.g., shoe size, gender, hair style, favourite colour or favourite animal. We then used our knowledge of branching tree diagrams to sort a variety of different animals. ~ Orla, 6KM
Maths - September 2017
On 13th September for Maths, we went into the hall as a year group and split into mixed groups of 4 or 5. We were given a target number (the first one was 5). We had to run into the middle of the hall and get a digit card, run back to our group and decide which place value column to put it into. We repeated this until we filled all of our spaces in the columns. The team with the decimal number closest to the target number won. We then put all of the decimal numbers into order and worked out how far each number was away from the target. We made sure we used accurate mathematical vocabulary to explain what we were doing.
Literacy - September 2017
In the first few days of Year 6, we received a letter from a mysterious person called Wesley. He continued to send another letter including a book called 'Weslandia'. We therefore decided to recreate one of the pictures through drama. ~ Lily, 6KM