Nursery
Welcome to Nursery
Mrs Abbott

Miss Haughton

Miss Taylor

Teacher

EYFS Leader of Learning

Teaching Assistant
Teaching Assistant
Friday 23rd July 2021
Below is Nursery's first assembly. I have also added a couple of videos of the children singing their 'Days of the Week' song and their alphabet song. I hope you enjoy watching their fantastic achievements. I am so very proud of each and every one of them and I will miss them all very much.
You can also find the assembly on Google Classroom.
Please note that it might take a minute to download due to the size of the file.
Tuesday 20th July 2021
Today the nursery enjoyed their Reading Challenge reward. They had lots of fun on the field with their soft toys. They chased bubbles, rolled hoops across the field and played with the parachute. For an extra special treat the children all enjoyed an ice pop which was well received on such a hot day!! Well Done on completing the challenge everyone. We love reading in the nursery!
Monday 12th July 2021
Today we went on a very wet and muddy minibeast hunt. We hunted high in the trees and looked under stones and logs. We found them in lots of different places. Some of the wriggled and some of them made slithery trails. It was a great way to explore the different habitats and find out why they liked to live there. We brought the mini-beasts back to nursery to take a closer look, but we made sure to return them to the garden where they belong.
Wednesday 7th July 2021
A huge well done to the England football team. We made our special flags and were cheering you all the way!!
Monday 5th July
This term the nursery children have been learning about amazing minibeasts. They enjoyed playing in the minibeast cafe and eating some disgusting sandwiches . We read non-fiction books and found out lots of interesting things that we did not know before. Even the teachers didn't know that some caterpillars stay inside their cocoon for two years!!
We saw the life cycle of a butterfly first hand and this year we were very lucky to see 2 butterflies wriggle out of their cocoon right in front of our eyes! We talked about the changes and the children recorded their understanding in their own personal way. When it was time for the butterflies to be let out of the net one of the children said "They are going now to explore the world". What a great experience we have all had.
We also made our own grass caterpillars out of tights, soil, grass seed and pipe-cleaners. We have had plenty of rain but now we need the sun to come back and warm up the growth progress.
Friday 2nd July
School dinners for the first time.
Friday 2nd July 2021
This week on Tuesday was International MUD Day and the nursery decided to add our own twist to the day. We had a 'Get Messy' Day. In our garden we had a variety of messy play opportunities for the children to explore and have fun with. The day was very tactile! We had jelly to touch and smell, shaving foam to squeeze and feel, a herb kitchen to smell and make soup with and large pools of water to splash in with our wellington boots. What a fun day we all had. We really did explore our senses!!
Wednesday 19th May 2021
This term the children in the Nursery have been learning about one of their favourite topics - Dinosaurs. At the beginning of the term a Mummy dinosaur left one of her eggs on the school field and the nursery children had to try and find it. They searched high and low and eventually they found it. The class made a nest and brought the dinosaur egg back to nursery to look after.
The children have really enjoyed learning about the different types of dinosaurs and finding out how the dinosaurs might have died.
Below is a sample of all the activities the children took part in to make the topic come alive.
Friday 14th May 2021
Today the nursery children enjoyed their first sports day. They had lots of fun balancing bean bags on their head, throwing javelins, taking part in a an egg and sport race and running with a cup of water and trying to get Miss Taylor and Mrs Abbott wet. Well done everyone you are all amazing Olympic champions in the making.
Friday 26th March 2021
Unfortunately, parents are not able to come into the nursery at the moment so here are a couple of our wonderful displays.
Friday 26th March 2021
The nursery have had an amazing 2 weeks looking after and caring for the chicks. They have watched first hand the life cycle of the hen. The children have been recording what they have found out through painting, pre-writing marks, making models in playdough and making an information book. We all had the opportunity to have a hold and stoke them. Thank you to Myles and his family for looking after the chicks at the weekend. We will miss the chicks and we hope they enjoy being back on the farm.
Friday 19th March 2021
The chicks arrived this week and the nursery children have enjoyed finding out about the life cycle of a hen, first hand. We were very lucky to see the chicks hatch in front of our own eyes. This year all the chicks have hatched so now we have 10 to care for. It has been such an exciting time; to be back in nursery and to have our special visitors to look after.
Wonderful Work of the Week
1st -5th March 2021
Wonderful Work of the Week
22nd- 26th February 2021
February 2021
Celebrating Chinese New Year of the OX
Wonderful Work of the Week
8th -12th February 2021
Wonderful Work of the Week
1st - 5th February 2021
Tuesday 2nd February
Polar Bear Art
25th - 29th January 2021
Wonderful Work of the Week
Expressive Art and Design - Designing a new chair for Baby Bear
18-22 January 2021
Wonderful Work of the Week
Thursday 21st January 2021
Today the children had to find objects around their home that began with the same sounds as the letters in their name. The children who completed this task all enjoyed finding the objects. Can you read their names by looking at the objects only. Look carefully because it is very tricky.
Well done Nursery, you are doing a super job in exploring the letters in your name while learning at home.
Wednesday 16th December 2020
Friday 11th December
The Christmas Markets have arrived at Denton West End Primary School and the children in Nursery had a fantastic time moving around the different stalls. The markets were part of the reading challenge reward.. The children made Christmas pinecones for their Christmas tree at home, reindeer hats for their Christmas party, developed their hand-eye coordination while playing with balloons during P.E and used their finger prints to decorate Christmas trees.
The children have worked so hard to complete their challenge and I would like to say a big thank you to all the Parents/Carers for supporting your child at home with this vital part of learning.
25th November 2020
All the nursery children are starting to get very excited about Christmas. They have all written their special letters to Father Christmas and today we posted them in the post box. Before we put our coats on, we talked about how we would walk there safely and hold our friend's hand. We also discussed how we would pay for the letters to be sent. We looked at stamps, envelopes and why we needed to write the address.
When we returned to nursery we were all very surprised to find a visitor in the nursery. Our Nursery elf had returned for another year. He had brought us hot chocolate and buttery toast to keep us warm after our long walk.
25th September 2020
This week in Nursery we have been reading the book 'While We Can't Hug'.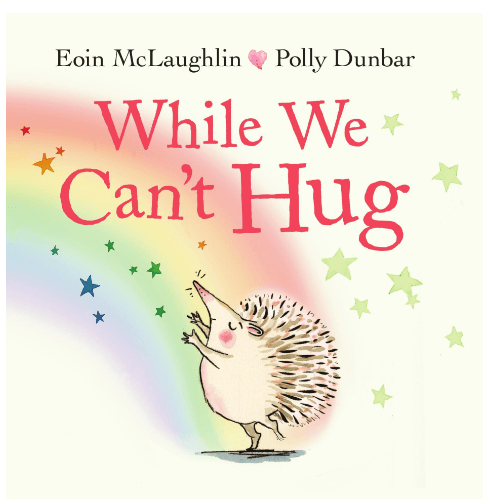 Click on the link below to watch the animated story.
https://www.youtube.com/watch?v=2PnnFrPaRgY
After reading the story, we talked about how we can make our family and friends happy and show them how much we love them when we can't hug them.
In the story, the two animals painted rainbows for each other. In the nursery, we found a friend to paint a picture with. The two friends had to take it in turns to choose a colour and paint a rainbow together.
Also in the story, the two animals pulled funny faces to make each other laugh. The nursery class used different types of fruit and vegetables to make funny faces. We also talked about the names of the food that we used.
Now the Autumn days are starting to arrive, please can you help your child to put on their coats independently. We don't expect them to zip their coat up but if you can start the bottom part of the zip for them and encourage them to pull the zip up and down.
Below are all the funny faces we made. Click on each group to see your child's creation and I am sure it will make you smile.
18th September 2020
Our first week in Nursery
The nursery children have finally started their journey through the foundation stage and what a busy couple of weeks they have all had. All the children are trying very hard to remember all the new rules and routines and have been very busy. We have been choosing within the new classroom and exploring the outside area. We have been learning to keep our bodies healthy by washing our hands correctly with soap and water. Well done everyone!
Parents please help your child by displaying their name in their bedroom or on the fridge and encourage them to look at it. Talk about what letter it begins with. (Please do not write your child's name in capital letters. Write the capital letter for the first letter only.)