Monday 20th July 2020
Dear Parents/Carers,
Please see below our plans for reopening in September. There is a letter detailing our arrangements. If you scroll down you will find risk assessments for the reopening of School and West End Kid's Club. There is also a 'What to do Parents' if you suspect you or your child has COVID 19.
All documents are very lengthy. This is because our plans have to be very thorough. Please be patient and put some time aside so that you can read all of the information.
These plans will stay in place unless the DfE or local authority make any changes. There is an update on the 11th August from the DfE so be aware that plans may be subject to change.
I will update the website next week for Summer Learning.
We are very excited to have all the children back in September and look forward to seeing them again; I am sure they will have grown over these last few months.
Keep safe and take care.
Mrs S. E. White
Head teacher
NB Please scroll down for Summer learning.
Welcome to Denton West End
Primary School
Dear Parents and Visitors,

Thank you for taking the time to look through our website.

We are a large two form entry primary school catering for children from three to eleven years on the outskirts of Tameside.
We are very proud of our school. We have high standards in everything we do; we work hard to achieve our vision 'Only our best is good enough'. This applies to all people connected to our school. We expect our children to achieve their potential through working hard and having a positive approach to their learning. Our children are well behaved, polite and welcoming. We know because visitors tell us! Our parents work in partnership with the school to ensure their children have the best start to their school life.

Children at our school have a broad and balanced curriculum. We provide our children with many opportunities that will enrich their time at primary school through sport, music, art and drama. We like to take the children out on visits which enables our children to draw upon first hand experiences and enhance the high quality of their work.

Our school values of Caring, Positive, Confident and Working Together ensure that we have a happy and successful learning environment so that our children will become well rounded individuals ready for the next academic stage in their lives.
I hope you have found the information you need in an easy and accessible way. Please let us know if there is anything you would like us to add and we will consider this.

Sharron White
Headteacher
COVID 19/Coronavirus-work for home
Look at our lovely rainbow in the window at the office! If you walk past and see it, please give us a wave and know we're thinking of all our children, families and staff at this uncertain time.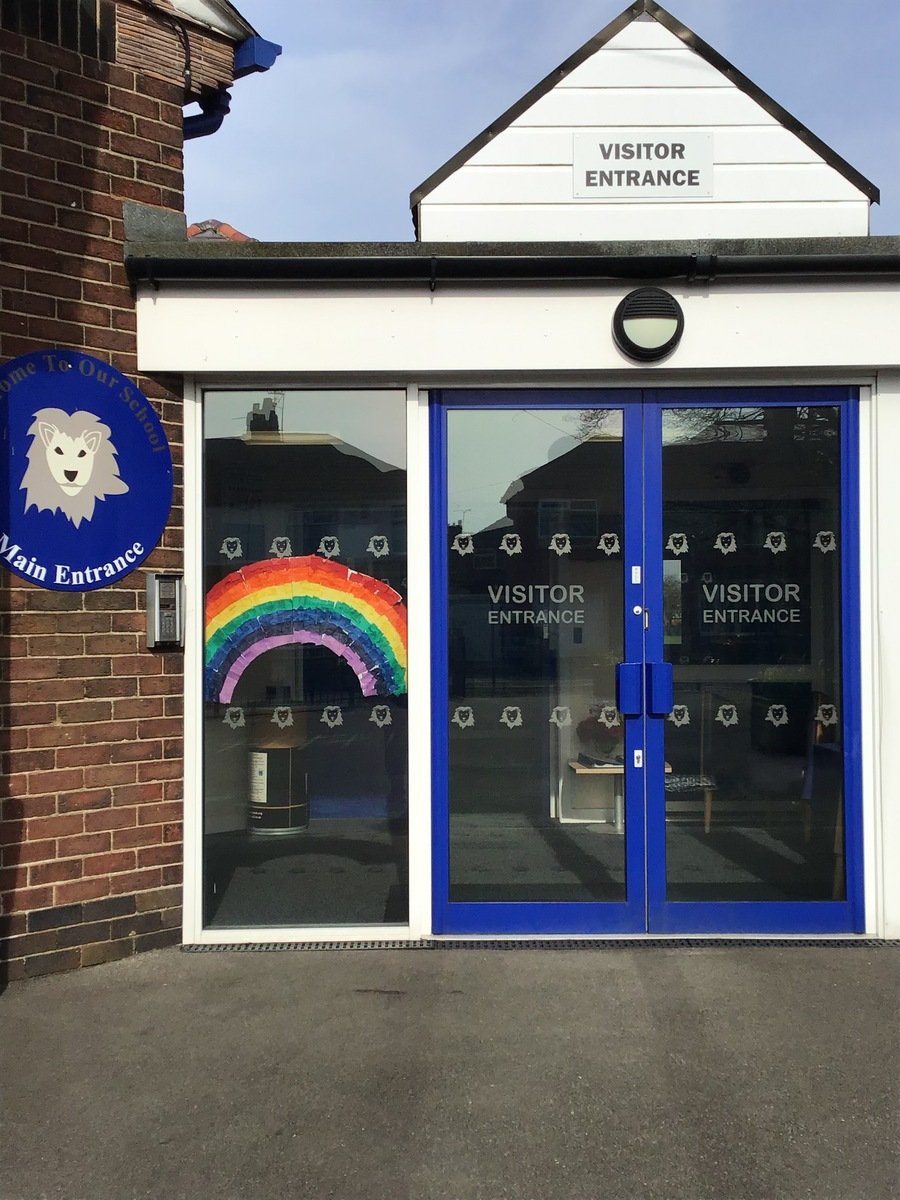 Denton West End Primary School Core Values and Mission Statement
Only Our Best is Good Enough
VISION
Aiming for Excellence
MISSION
Providing outstanding experiences in all aspects of school life.
CORE VALUES
Confident Caring Positive Together
Latest School Calendar Events
There are currently no events.
Calendars page(s): School Calendar >>
Should you require any further information about the school or a paper copy of the information on our website, please contact Mrs N Davenport by email - admin@dweschool.org