Friday 5th June 2020
Dear Parents/Carers,
I have just received an email from Tameside council that recommends schools do not start their wider reopening until 22nd June. This is because the R number for Tameside is above one. I have copied the letter below for you.
The chair of governors and myself feel we are unable to start our wider reopening on Monday in line with the Council's recommendation. We are very sorry about this as I am sure many of you have started to put plans in place and we realise this is going to be an inconvenience but we must follow the advice of the Director of Population Health to ensure pupils and staff are safe.
We will continue to open for vulnerable and key worker children although, as previously stated, numbers are limited.
I will continue to update you as we get further information.
Many thanks.
Mrs White
Welcome to Denton West End
Primary School
Dear Parents and Visitors,

Thank you for taking the time to look through our website.

We are a large two form entry primary school catering for children from three to eleven years on the outskirts of Tameside.
We are very proud of our school. We have high standards in everything we do; we work hard to achieve our vision 'Only our best is good enough'. This applies to all people connected to our school. We expect our children to achieve their potential through working hard and having a positive approach to their learning. Our children are well behaved, polite and welcoming. We know because visitors tell us! Our parents work in partnership with the school to ensure their children have the best start to their school life.

Children at our school have a broad and balanced curriculum. We provide our children with many opportunities that will enrich their time at primary school through sport, music, art and drama. We like to take the children out on visits which enables our children to draw upon first hand experiences and enhance the high quality of their work.

Our school values of Caring, Positive, Confident and Working Together ensure that we have a happy and successful learning environment so that our children will become well rounded individuals ready for the next academic stage in their lives.
I hope you have found the information you need in an easy and accessible way. Please let us know if there is anything you would like us to add and we will consider this.

Sharron White
Headteacher
COVID 19/Coronavirus-work for home
Look at our lovely rainbow in the window at the office! If you walk past and see it, please give us a wave and know we're thinking of all our children, families and staff at this uncertain time.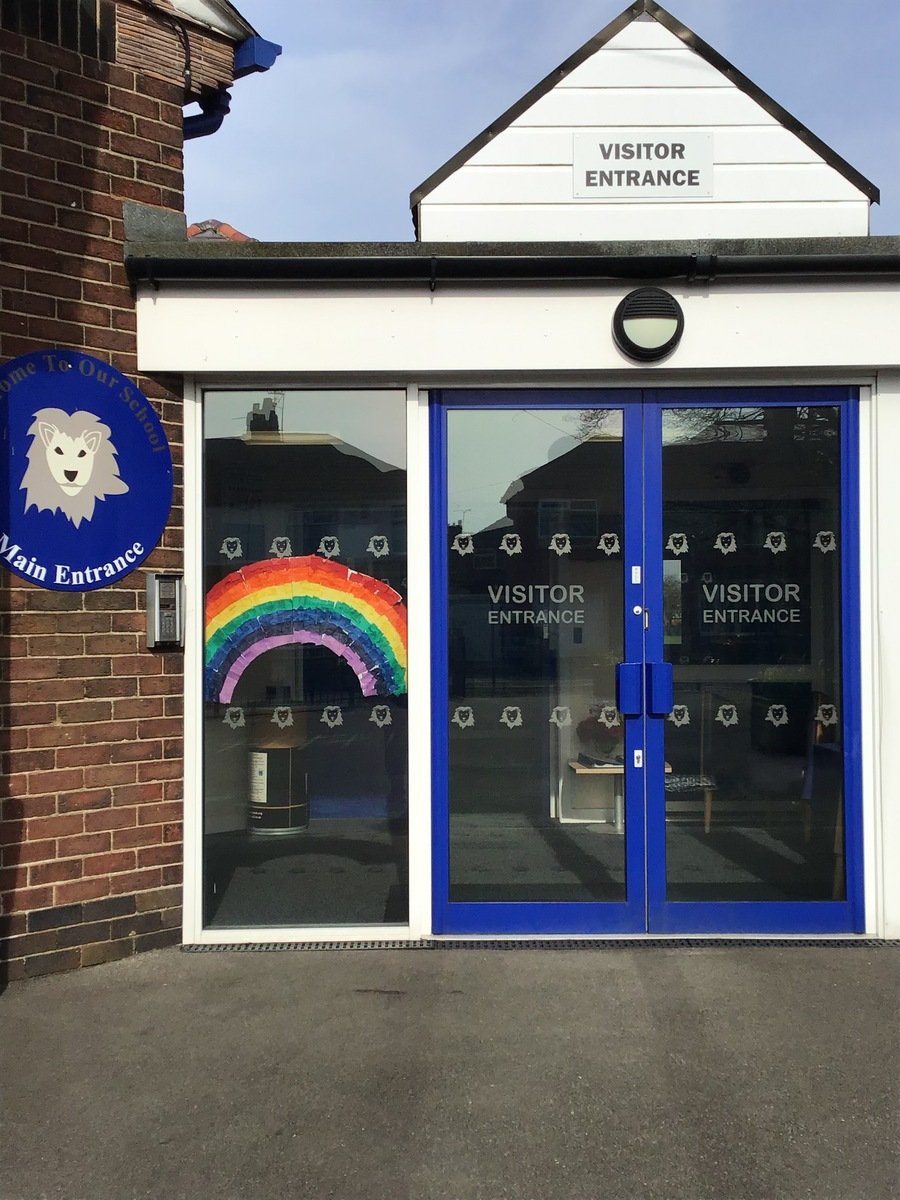 Denton West End Primary School Core Values and Mission Statement
Only Our Best is Good Enough
VISION
Aiming for Excellence
MISSION
Providing outstanding experiences in all aspects of school life.
CORE VALUES
Confident Caring Positive Together
Should you require any further information about the school or a paper copy of the information on our website, please contact Mrs N Davenport by email - admin@dweschool.org