Year 4
Welcome to Year 4
Meet the Year 4 staff
| | |
| --- | --- |
| Miss Fallows | Mrs Moran |
| Y4 Teacher | Y4 Teacher |
Spellings
For a test on 28.01.20.
1. fixture
2. mature
3. moisture
4. sculpture
5. adventure
6. immature
7. structure
8. texture
The Museum of Science and Industry - January 2020
On Monday 27th January, Year 4 went on a trip to the Museum of Science and Industry as part of our History of Manchester and Electricity topics. As well as seeing all of the exhibitions that the museum had to offer, we also took part in the Revolution Manchester Show, the Weavers Wanted Textile Demonstration and the Circuit City workshop.
Alien Day! - January 2020
On Monday 20th January, aliens invaded the Year 4 classrooms at Denton West End Primary School! We had a fantastic day and completed lots of different alien themed activities, including creating our own aliens and making models of them. The children looked absolutely incredible in their outfits and we are very grateful to the huge efforts that were made from children and parents.
Flute and Clarinet Assembly - December 2019
4M have been learning to play the flute and 4F have been learning the clarinet and we all performed a special concert for Key Stage 2 and parents showcasing our musical talent. We not only sung and played our instruments, we also performed our very own compositions. We plan to do another concert in the summer term to show how much we have learnt and the progress we have made. Thank you very much to Miss Hammond for being such an amazing music teacher and also thank you to parents for the continuing support.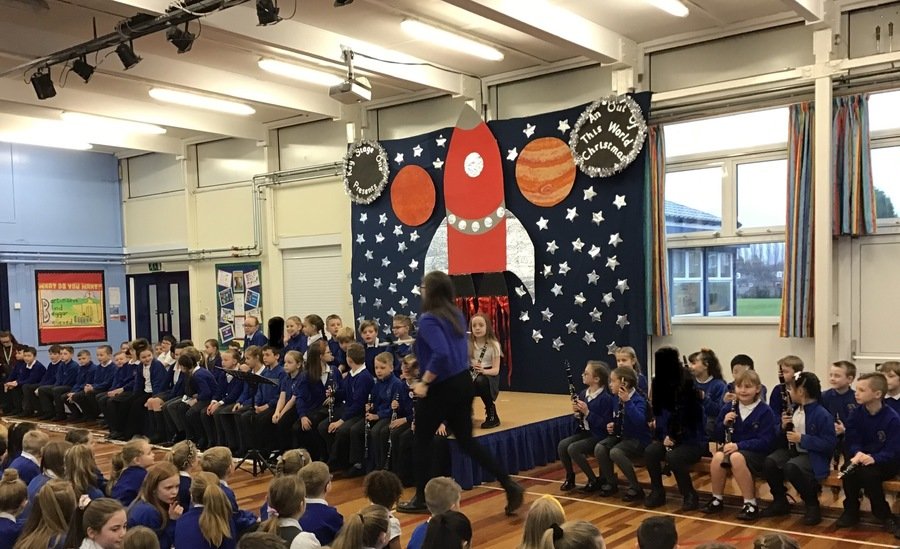 Remembrance Day - November 2019
To commemorate Remembrance Day, we have made poppy wreaths by recycling egg boxes. We learnt all about Remembrance Day and about the story of the poppy.
Ice Cream! October 2019
For our science topic, states of matter, we have been discovering how liquids can change from liquid to solid. Today, we made ice cream - without a freezer! We used our knowledge of states of matter to create delicious ice cream and, lucky for us, we even got to eat it!
Chocolate Making Machines - October 2019
In year 4, we have made chocolate making machines. We used our imaginations to create marvellous contraptions which included buttons, levers and much much more! Thank you to all those who brought 'junk' in for us to use!
The Aztecs - October 2019
Year 4 have been very lucky to have a lesson in Nahuatl this afternoon from Mrs Potter who is originally from Mexico City. Nahuatl was the language of the Aztecs and we loved learning a lullaby and the numbers one to five. Thank you Mrs Potter!
Science - September 2019
In Science, we have been classifying and sorting objects based on their properties. We have been looking at states of matter - solids, liquids and gases.