Year 4
Welcome to Year 4
Meet the Year 4 staff
| | |
| --- | --- |
| Miss Fallows | Mrs Moran |
| Y4 Teacher | Y4 Teacher |
Times Tables Rockstars - April 2020
Huge well done to 4F in winning the battle on Times Tables Rockstars with a massive 29513 points compared to 4M's 7008! Well done to all those who took part and in particular to Max L from 4F and Jack from 4M for contributing the most points for their class!
Home Learning - Monday 30th March 2020
Hello Year 4! We hope you are keeping yourselves safe and busy! Here are some new ideas for home learning:
PE:
https://www.youtube.com/user/mosetsanagape Oti Mabuse, Strictly come Dancing star has created Disney themed dance lessons live from 11:30 each day. All of her videos are available to watch on Youtube.

Obstacle course – Challenge yourself! Create an obstacle course outside using items around the home/garden and time yourself.
Reading:
Science:
Last week, Chester Zoo hosted a 'Live Virtual Day' – If you missed it, you can watch on their YouTube channel.
https://www.youtube.com/watch?v=p53Glw5Nzro&list=PLezrh9gR8RL3kkND8Pz2zOHHZPRk-a2VC
Spellings:
Endings which sound like 'shun'
electrician

invention

discussion

description

tension

mansion

beautician

mission
Try and learn your spellings in different ways, chalk outside, pyramid writing, silly sentences, bubble writing. Challenge: Can you think of other words with the endings 'sion' 'ssion' 'cian' 'tion' and group them together?
Maths:
Create your own paper plate clock and learn to tell the time.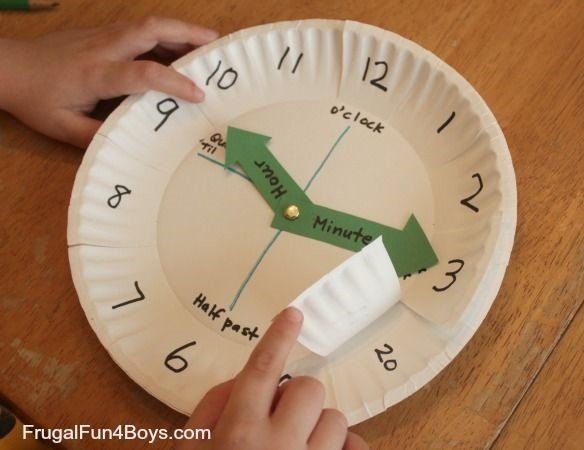 Times Table Rock Stars:
A battle between 4F and 4M will begin on Monday 30th until Monday 6th April. Who's going to win? Who is going to contribute the most for their class?
Home Learning - Monday 23rd March 2020
Hello year 4 children, as today is our first day where you are learning at home, we have put together a list of ideas that could keep you busy!
A range of home learning activities suitable for each year group can be found here on Classroom Secrets -
https://classroomsecrets.co.uk/free-home-learning-packs/
Please note, this link will only work on a PC/laptop and unfortunately is not compatible with phones or tablets.
P.E – at 9:00am every day, Joe Wicks is doing a P.E lesson that you can do at home! https://www.youtube.com/channel/UCAxW1XT0iEJo0TYlRfn6rYQ
You can also use 'Go Noodle'. Go Noodle have uploaded lots of their videos to YouTube, which you can find by following this link: https://www.youtube.com/channel/UC2YBT7HYqCbbvzu3kKZ3wnw
Literacy – In school, both classes have been really working on our comprehension skills. This would be a great time to have lots of discussions around books, as well as develop comprehension skills.
You may also want to use the website 'Once Upon a Picture'. Each day, you could choose one image to inspire lots of different learning. Follow this link to find the website: https://www.onceuponapicture.co.uk/
Another idea to support Literacy learning at home, is Pobble 365. This is a fantastic resource to develop a range of skills. Each day, a photo will be uploaded to the website. http://www.pobble365.com/journey-to-school/
Maths – There are so many ideas for what your daily maths activity could be! You all have Times Table Rock Stars logins that you can use and that would be a great place to start, as times tables are a must!
You could also use BBC Super Movers, we have done these in school before and they are a great way to practise times tables, as well as get some exercise. https://www.bbc.co.uk/teach/supermovers/ks2-maths-the-7-times-table-with-moonbeam/zjp8y9q
Another fantastic website to use is Top Marks. In school, we have been focusing on money and measuring. This could be a good place to start but the website offers many games and activities for different areas of maths. This link will take you to the area for ages 7-11:
https://www.topmarks.co.uk/maths-games/7-11-years/place-value
Premier League Primary Stars have lots of great activities for many subjects but their 'Solve, Shoot and Score' game is a fun way to practise some maths and spellings. It is a football game that will ask randomised maths questions that you should solve. Follow this link:
https://plprimarystars.com/for-families/play-game
Spellings – You should continue to practise the year 3/4 spellings. You can do this outside with chalk or on paper with bubble writing, dot to dot writing, silly sentences/story, pyramid writing.
Creative – There are lots of creative home learning activities available at the moment and following your own interests is also very important.
A lovely way to be creative is to use the Draw with Rob tutorials. He will be uploading videos twice a week, where he talks you through how to draw different things. There are already a few uploaded, which can be found by following this link:
http://www.robbiddulph.com/draw-with-rob
Blue Peter have many exciting activities you could complete whilst at home, including earning your own Blue Peter badge! Follow this link to find a range of creative activities to complete:
https://www.bbc.co.uk/cbbc/shows/blue-peter
Scouts – The Great Indoors! Scouts have kindly provided plenty of fun, creative activities that you can complete at home. You can use the website to find an activity that interests you. Follow this link to the website for ideas:
https://www.scouts.org.uk/the-great-indoors/
Scratch – Children can use Raspberry Pi to complete their own scratch projects.
https://projects.raspberrypi.org/en/codeclub/scratch-module-1
Year 3 and 4 Statutory Spellings
These are the spellings that children should be able to spell and use in their writing by the end of Year 4.
Spellings
For a test on 23.03.20.
1. opposite
2. height
3. knowledge
4. perhaps
5. disappear
6. believe
7. ordinary
8. exercise
World Book Day - March 2020
To celebrate World Book Day 2020, we have taken part in a range of activities in school. Some children also entered the book in a jar competition - there were some wonderful entries and children had obviously put lots of effort into these! It is clear to see that our children really love reading and enjoy reading a wide range of books and literature which is great to see!
Mad Scientist Day - February 2020
On Thursday 27th February, Year 4 had a Mad Scientist day that linked with our Literacy and Science topics. We dressed up as mad scientists for the day and took part in all sorts of crazy activities. We made our own potions, created and described our own professors and made slime that changed its state depending on the action you were doing to it. We had a great day!
Quinton Fortune Football Session - February 2020
Year 4 were incredibly fortunate to be given the opportunity to take part in a football coaching session from the Quinton Fortune Academy. The pupils participated in a range of activities and displayed really good teamwork as they worked together. Thank you for such a kind donation to Year 4.
The Museum of Science and Industry - January 2020
On Monday 27th January, Year 4 went on a trip to the Museum of Science and Industry as part of our History of Manchester and Electricity topics. As well as seeing all of the exhibitions that the museum had to offer, we also took part in the Revolution Manchester Show, the Weavers Wanted Textile Demonstration and the Circuit City workshop.
Alien Day! - January 2020
On Monday 20th January, aliens invaded the Year 4 classrooms at Denton West End Primary School! We had a fantastic day and completed lots of different alien themed activities, including creating our own aliens and making models of them. The children looked absolutely incredible in their outfits and we are very grateful to the huge efforts that were made from children and parents.
Flute and Clarinet Assembly - December 2019
4M have been learning to play the flute and 4F have been learning the clarinet and we all performed a special concert for Key Stage 2 and parents showcasing our musical talent. We not only sung and played our instruments, we also performed our very own compositions. We plan to do another concert in the summer term to show how much we have learnt and the progress we have made. Thank you very much to Miss Hammond for being such an amazing music teacher and also thank you to parents for the continuing support.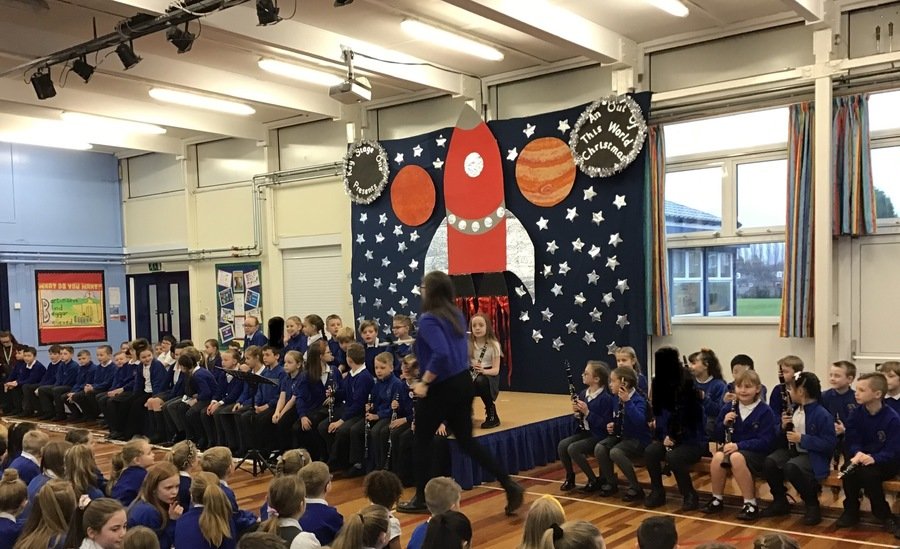 Remembrance Day - November 2019
To commemorate Remembrance Day, we have made poppy wreaths by recycling egg boxes. We learnt all about Remembrance Day and about the story of the poppy.
Ice Cream! October 2019
For our science topic, states of matter, we have been discovering how liquids can change from liquid to solid. Today, we made ice cream - without a freezer! We used our knowledge of states of matter to create delicious ice cream and, lucky for us, we even got to eat it!
Chocolate Making Machines - October 2019
In year 4, we have made chocolate making machines. We used our imaginations to create marvellous contraptions which included buttons, levers and much much more! Thank you to all those who brought 'junk' in for us to use!
The Aztecs - October 2019
Year 4 have been very lucky to have a lesson in Nahuatl this afternoon from Mrs Potter who is originally from Mexico City. Nahuatl was the language of the Aztecs and we loved learning a lullaby and the numbers one to five. Thank you Mrs Potter!
Science - September 2019
In Science, we have been classifying and sorting objects based on their properties. We have been looking at states of matter - solids, liquids and gases.