Meet the Year 5 staff
Miss Barclay

Miss Longley

Y5 Teacher
Y5 Teacher
Home Learning - Week 2
Hello children, we hope you are all well and that you enjoyed some of the activities from last weeks post. We encourage you to use those links this week too!
Maths – Hopefully you have been using TTRS already so we have decided to create a battle! 5B vs 5L!
Make sure you use TTRS daily to help your class win! The battle will end on Sunday evening and we will announce the winner on Monday.
Project - This week, we would like you to work on a project for our upcoming topic - Life Cycles!
Whilst off school, children could use this time to develop their understanding of animals and their growth. An activity to help with this would be to create a mini book or Power Point presentation on an animal of your choice. We would like to know about what they eat, where they live, what they are called when they are babies etc. This is an opportunity to be really creative and do lots of research! You might draw a diagram of the animal and label it or you might make an example of their habitat in your own garden, it is completely up to you.
This link allows you to watch live webcams of some animals from San Diego Zoo. You could use this to spark your imagination:
https://zoo.sandiegozoo.org/live-cams
Also, Chester Zoo did a live feed of their animals last week that may be helpful when completing this project. Please follow this link to find the YouTube video:
https://www.youtube.com/watch?v=p53Glw5Nzro&list=PLezrh9gR8RL3kkND8Pz2zOHHZPRk-a2VC
P.E/Dance – P.E with Joe Wicks- Joe Wicks is continuing to create youtube video workouts to do daily, which is a great form of exercise.
Alternatively, if you are missing your dance lessons with Mrs Biggar, Oti Mabuse (from Stictly Come Dancing) has been doing daily dance classes for children, which can be found on youtube and social media.
https://www.youtube.com/user/mosetsanagape
Home Learning
A range of home learning activities suitable for each year group can be found here on Classroom Secrets -
https://classroomsecrets.co.uk/free-home-learning-packs/
Please note, this link will only work on a PC/laptop and unfortunately is not compatible with phones or tablets.
Home Learning
Hello to our lovely year 5 children, as today is our first day where you are learning at home, we have put together a list of ideas that could keep you busy! It would be a good idea to get yourself into a routine that you can follow each day, including an activity for exercise, Literacy, Maths, Spelling and something creative. Your routine might look a little like this:
P.E – at 9:00am every day, Joe Wicks is doing a P.E lesson that you can do at home! This would be a really fun way to start your day and get some exercise. Follow this link to find the videos each day: https://www.youtube.com/channel/UCAxW1XT0iEJo0TYlRfn6rYQ
You can also use 'Go Noodle' to get some exercise from the comfort of your own home. Go Noodle have uploaded lots of their videos to YouTube, which you can find by following this link: https://www.youtube.com/channel/UC2YBT7HYqCbbvzu3kKZ3wnw
Literacy – In school, both classes have been really working on our comprehension skills. This would be a great time to have lots of discussions around books, as well as develop comprehension skills.
You may also want to use the website 'Once Upon a Picture'. Each day, you could choose one image to inspire lots of different learning. Once you have chosen your picture, you click on it and this will take you to a page that provides lots of different comprehension/inference questions. You could have a discussion about this or write your answers down. Follow this link to find the website: https://www.onceuponapicture.co.uk/
Another idea to support Literacy learning at home, is Pobble 365. This is a fantastic resource to develop a range of skills. Each day, a photo will be uploaded to the website. If you scroll down the page, you will find lots of activities such as sentence starters, writing activities and comprehension questions. This could be another activity for discussion or that you could write down. Follow this link to find the website:
http://www.pobble365.com/journey-to-school/
Maths – There are so many ideas for what your daily maths activity could be! You all have Times Table Rock Stars logins that you can use and that would be a great place to start, as times tables are a must!
You could also use BBC Super Movers, we have done these in school before and they are a great way to practise times tables, as well as get some exercise. The videos each focus on one times table and encourage you to learn the song and dance to go along with it. Follow this link to the website:
https://www.bbc.co.uk/teach/supermovers/ks2-maths-the-7-times-table-with-moonbeam/zjp8y9q
Another fantastic website to use is Top Marks. In school, we have been focusing on money and decimals. This could be a good place to start but the website offers many games and activities for different areas of maths including place value, shape and fractions. This link will take you to the area for ages 7-11:
https://www.topmarks.co.uk/maths-games/7-11-years/place-value
Premier League Primary Stars have lots of great activities for many subjects but their 'Solve, Shoot and Score' game is a fun way to practise some maths. It is a football game that will ask randomised maths questions that you should solve. Follow this link:
https://plprimarystars.com/for-families/play-game
Spellings – we have put ideas on a separate post for how you might want to practise year 5/6 spelling words at home.
Creative – There are lots of creative home learning activities available at the moment and following your own interests is also very important. Please see the Home page of the website for some ideas. Also, lots of the children have enjoyed creating their own PowerPoint in school and if possible, it would be a good idea for them to do this at home. Here are a few activities/ideas we have.
A lovely way to be creative is to use the Draw with Rob tutorials. He will be uploading videos twice a week, where he talks you through how to draw different things. There are already a few uploaded, which can be found by following this link:
http://www.robbiddulph.com/draw-with-rob
Blue Peter have many exciting activities you could complete whilst at home, including earning your own Blue Peter badge! Follow this link to find a range of creative activities to complete:
https://www.bbc.co.uk/cbbc/shows/blue-peter
Scouts – The Great Indoors! Scouts have kindly provided plenty of fun, creative activities that you can complete at home. You can use the website to find an activity that interests you. Follow this link to the website for ideas:
https://www.scouts.org.uk/the-great-indoors/
Paper Mache is a fun and messy way to get creative whilst at home! You can use balloons to form the shape of your paper mache, depending on what you're creating. This website has an example of how to make it but lots can be found online.
https://www.wikihow.com/Create-Papier-M%C3%A2ch%C3%A9
There is currently a 30 day Lego Challenge that children could complete if they have Lego at home. Each day, children are assigned a task to complete using their Lego. This may also be a good idea to complete with other toys and junk modelling. This link has the 30 day challenge on:
https://www.wikihow.com/Create-Papier-M%C3%A2ch%C3%A9
Baking is a fantastic way to be creative, whilst supporting children with their measurement skills and possibly scaling.
We suggest that you complete one exercise, Literacy, Maths, spelling and creative activity each day. However, we are aware that this may not be possible for everyone. We will continue to update the website with ideas but hopefully there is plenty here to get you started.
We hope you are all keeping safe and we hope to see you all soon!
Miss Barclay and Miss Longley.
Year 5/6 Spelling Words
Whilst children are at home, they should practise their spellings. The year 5/6 spelling words are on our website page above and on page 100 of the children's planners. Some ways children could practise these spellings are:
pyramid words

spelling the word backwards

dotty letters

swirly writing

drawing a picture for the word

put it in a silly sentence

write the word with your left hand

close your eyes and write the word

rainbow words

create a

word search

tell a story about the word

write the word in sand/rice
World Book Day
To celebrate World Book Day, we have done a variety of activities including a dance workshop, a book quiz and decorated jars. We have enjoyed all the activities!
Audenshaw French Lesson
Children from Audenshaw High School were invited into school to share some of their learning with our Year 5 pupils. The boys delivered a lesson all about school uniform. The children learnt how to say items of clothing, colours and how to use a french dictionary. All the children enjoyed the experience and liked talking to the children from Audenshaw.
Bramall Hall
As part of our Tudor topic, we visited Bramall Hall in Stockport. During this day, we learnt all about the Tudor period and the family that used to own the house. We took part in a range of different activities including learning a Tudor house; making a nose gay; using the painted walls to make art work; making our own wattle and daub and learning about all the Tudor dress. We had a fantastic day and learnt a lot!
Conrad Burdekin Poetry
This half term, we had a very special visit from the poet Conrad Burdekin. During this day, we listened to him perform some of his poems and then we got the opportunity to create a poem with him. 5L chose the topic for their poem to be a break out at a zoo. 5B chose theirs to be about all the things that they have going on in their heads including silly and sensible things. At the end of the week, we got to perform all the poems to the whole school. We enjoyed this day so much we have displayed all the poems in the KS2 library.
Ancient Greeks
In history, we have been learning about the Ancient Greeks and this week we have looked at their architecture. We looked at and drew the different types of columns and finally we learnt all about the Parthenon. We learnt all about the temple then created our own models!
Art
In Art, with Mr Doyle we have been using clay. We have learnt how to create a variety of pots including: a slab pot, a coil pot and a pinch pot. We then made our own gargoyles and finally a tile with an Ancient Greek profile on.
Rock star day!
To celebrate all the hard work the children have been doing to learn their times tables we had a special Rock Star Day! Everyone looked fantastic and over 100 VIP passes were given out. Keep practicing those times tables!
Ancient Greek Day
To create interest in our new topic we took part in a Ancient Greek Day. As part of the day, we learnt about the Gods, how Ancient Greece begun, solved a Greek puzzle, learnt about the armor and warfare and took part in our own mini Olympics. We has loads of fun and have learnt so much as part of our new topic!
Thank you for all the effort that was put into the costumes for the day as all the children looked FANTASTIC!
Remembrance Day
To celebrate remembrance day we created wreaths using egg boxes and have displayed them outside our classrooms as a sign of respect
Maths - 12.11.19
In Maths, we have started to work with fractions.
To begin with, we identified what we already know about fractions, then we represented some mixed number fractions using the different resources.
Computing
In Computing this half term, we are focusing on coding. We started this topic with an unplugged lesson in the classroom, using BeeBots to secure our coding skills. We began by ensuring we were familiar with how to create the correct algorithm in order to get the BeeBot to move from one place to another. We all worked together to do this and once we were ready, we created our own obstacle courses that we had to move the BeeBot around.
5L's Class Assembly - Roald Dahl Poems
5L had the pleasure of having the first class assembly of the year. In the assembly, the children performed some of Roald Dahl's poems and talk about the features. We even performed some of our own poems too! Thank you to everyone who came to support us!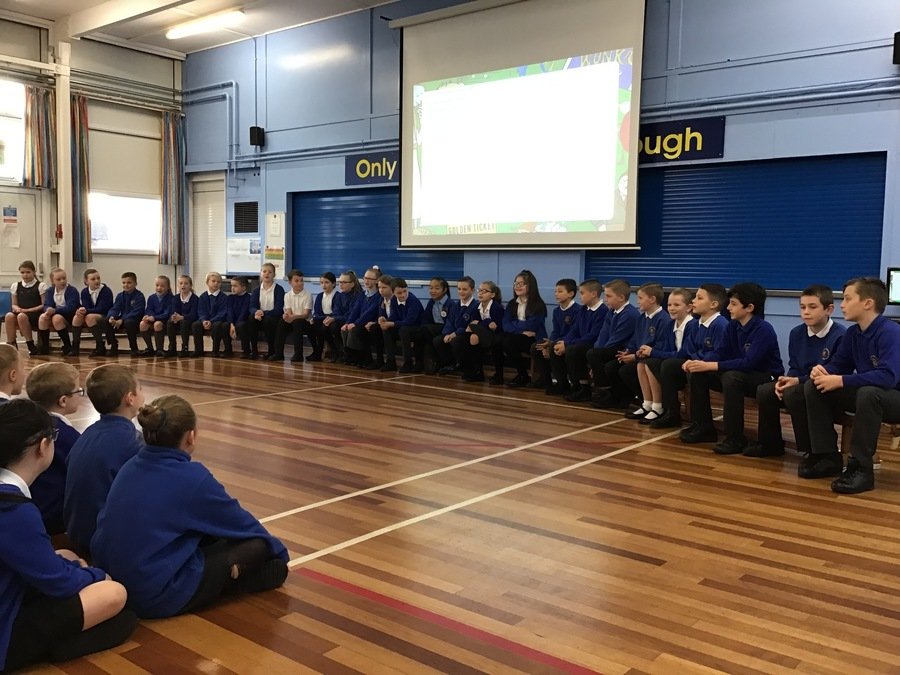 Science
Our science topic this term is materials, in this topic we have done a range of interesting experiments including testing the best brand of nappy and what solids dissolve in water. We have been thinking about the variables and how to make our investigations a fair test.
Sky High
We went on a trip to Sky High to challenge ourselves, face our fears and use our growth mindsets! We had a fantastic time; we did high ropes, clip and climb, caving, leap of faith and the slide. Our teachers were very impressed by our attitudes and behaviour.
Roald Dahl Poetry
In year 5, we have been looking at Roald Dahl poetry and had a go at creating our own. We created a character and made a short poem about them. We then explored how we can make interesting performances and gave it ago ourselves!
Quentin Blake art
In art this term, we are looking at the illustrator Quentin Blake. We have watched a video of him drawing Willy Wonka and we followed along listening to his instructions very carefully and are proud of our work we have produced and would like to share it!
Our first week
It is our first week in year 5 and the children have written about their experiences this week.
5L
In our first week in year 5, we have enjoyed working together as a class and we have created a bee piece of art which shows how different we all are but how well we work together.
In year 5, I enjoyed making the bee art the most as it was fun to see it all come together in the end.
I have enjoyed maths this week as it is quite different as we now have practice books to work in.
I enjoyed doing the games in the hall as it was fun working as a team.