We love receiving pictures of our children keeping safe and happy during this time. Here are some photos of some of the home learning that has been going on!
If you have pictures you would like to send us, please email them to homelearning@dweschool.org.
Week Beginning 6th July 2020
Week Beginning 29th June 2020
Week Beginning 22nd June 2020
Week Beginning 15th June 2020
Week Beginning 8th June 2020
Week Beginning 18th May 2020
Week Beginning 11th May 2020
VE Day
The staff at DWE have had great fun celebrating VE Day at home with their families. We are missing you all lots and hoping you are all keeping safe and well.
VE Day Celebrations
We have loved seeing your fantastic learning and celebrations for VE Day! If you would like to send us any work or pictures, you can send them to homelearning@dweschool.org.
Week Beginning 4th May 2020
Week Beginning 27th April 2020
Week Beginning 20th April 2020
St John Ambulance Fun Run
Handwriting Competition Winners 2020
Young Voices Concert
Manchester Children's Hospital
Today, we had a very special assembly! Manchester Children's Hospital came into to see us to tell us all about the amazing work they will do with the money we will raise for them as they are our charity of the year.
Rock star day!
To celebrate all the hard work the children have been doing to learn their times tables we had a special Rock Star Day! Everyone looked fantastic and over 100 VIP passes were given out. Keep practising those times tables!
2019 Charity Presentations
Denton Big Sing

The Choir performed at Denton Community College at the annual Denton Big Sing.
Exhibition
Thank you to all the people who came after school and on open afternoon to see the exhibition. The children have worked really hard to produce all the work based around a religion or culture which was our theme for this year. I hope you can see how much the children have enjoyed their learning through the displays.
Red Carpet Times Tables Assembly
Explore Learning writing competition
Explore Learning came into school to launch their writing competition. The children have to write a story on the theme change the world. The winner will have Alesha Dixon come into their school to do an assembly and they will also win a family holiday to Disneyland Paris! Hopefully, we will have a winner from Denton West End!
Rock Steady
Rock Steady came into school and did workshops for children in KS2. They taught children to play instruments and sing to We Will Rock You by Queen in just 30 minutes! The children enjoyed it a lot and are looking forward to Rock Steady setting up a school band.
Luke Temple
The author Luke Temple came into school to tell us all about his books. He gave us teaser about what his book are about and talked to us all about what it is like to be an author. He will be coming in also to sign any books bought by the children and the school for the school library. He has written about his visit on his blog thistlewick.blogspot.com and how much he enjoyed coming into our school.
Times Table Red Carpet Event
We held our first Red Carpet Assembly on Friday 11th January. Special lanyards were awarded to the children and Mr Hesford, our Site Manager, came along to present them. The children are proud of their achievements and it's lovely to see the children wearing the lanyards around school.
Visit From Tommy Atkins
All year groups enjoyed a visit from Tommy Atkins to teach us all about life as a soldier during World War 1. The children really enjoyed trying on the clothes and handling the equipment.
Diwali Celebrations
Denton West End celebrated Diwali by creating rangoli patterns and diva lamps. They also learnt an Indian dance.
World War I
To commemorate the centenary of the First World War, Denton West End pupils have created a wonderful poppy display in the junior hall.
Judaism Assembly
Denton West End learnt about Judaism and Jewish culture during a school assembly.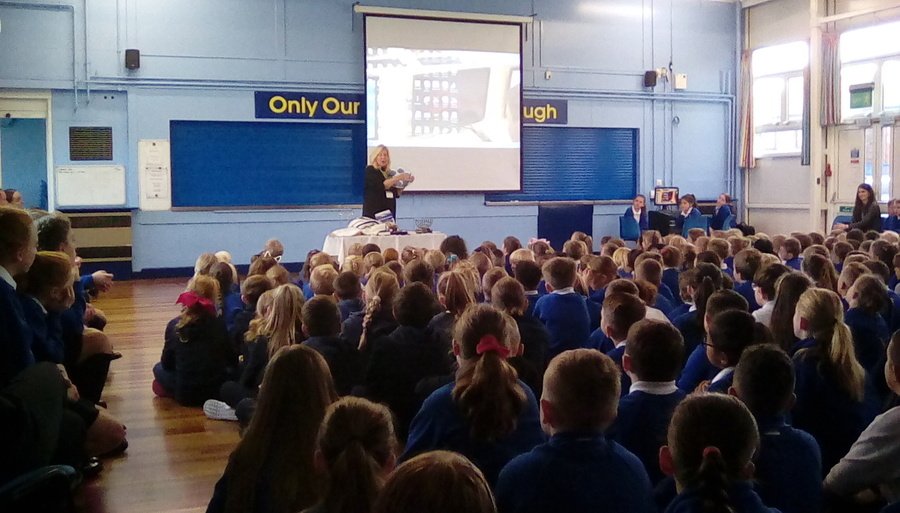 Galleries
Lord Mayor's Ball
Children from our school choir had a fantastic performance opportunity to sing at a highly prestigious event of the Lord Mayor's Ball. Children sang songs with members of another schools choir and really impressed the audience. It was an amazing night and the children represented the school brilliantly. Please enjoy the clips of their performances.