Meet the Year 6 staff
Mrs Sutlow

Mrs Moran

Mrs Potter

Mrs Murphy

Y6 Teacher

Assistant Head

Y6 Teacher

KS2 Leader of Learning

Teaching Assistant

Teaching Assistant
Spellings -
W/C 26th April
Test 4th May
production

direction

expression

celebration

conclusion

decision

attention

magician

communication

politician
Spellings -
W/C 19th April
Test 26th April
prefer

preference

preferable

preferring

preferred

refer

reference

referee

infer

inference
Housepoint Certificates
Well done to our Year 6 pupils who have achieved their housepoint certificates this week!
Home Learning Work - January - March 2021
Here are some fantastic examples of some of the home learning that Year 6 have been doing. Well done Year 6!
Science and Literacy - January 2021
As part of our Science topic, Adaptation and Evolution, we have looked at the story of the peppered moth. We watched Dr Sam Illingworth performing his poem 'The Peppered Moth' and did some work based on the poem. After sharing our amazing work on Twitter, Dr Illingworth got in touch with Mrs Moran and Mrs Sutlow! Dr Illingworth has recorded some of his poems for us and has set Year 6 an important challenge! You can watch his video below. We are looking forward (and so is Dr Illingworth!) to seeing and reading the poems that Year 6 produce - we have high hopes!
Merry Christmas from Year 6!
6S Class Assembly- December 2020
We are proud to share the wonderful work we have done on India through our virtual class assembly. We hope you enjoy it.

6M Class Assembly - December 2020
As we are unable to invite parents into school, we have created a video to showcase our fantastic work all about Macbeth. We have done some incredible work and have really thought about the reader in our writing!
Macbeth - December 2020
We have been focusing on Macbeth and the features of playscripts. Following on from when Macbeth believes he has seen the ghost of Banquo in the hall of Dunsinane Castle, we invented a scene in which Macbeth and Lady Macbeth have a rather heated discussion about what has just happened and what they should do next. A huge well done to all of Year 6 as not only did they write their own playscripts using all of the technical features that we have looked at, but they also managed to perform the scenes brilliantly.
Spelling - for a test on 14.12.20
This week, the children have individual spellings. These could be spellings that they have spelled incorrectly in tests or in their writing or could be spellings from the Year 5 and 6 Statutory Spelling list. They will still be tested on them in class on Monday.
6M's Work of the Week 27.11.20
Well done to Kaiser for writing a great persuasive letter as Lady Macbeth to Macbeth. He has used a great choice of language effectively in his work.
6S's Work of the Week 27.11.20
Well done to Chloe for writing a wonderful persuasive letter as Lady Macbeth to Macbeth. She has used a good range of punctuation and a range of persuasive techniques for convincing Macbeth to kill King Duncan.
Times Tables Rockstars Red Carpet Event - November 2020
Well done to those children who have earnt their times tables lanyard this term! In Year 6, the children have to achieve 60/60 on their 7, 8 and 9 times tables in order to achieve this.
India Day - November 2020
As part of our India topic, we had a special day celebrating different aspects of India and Indian culture. We were very fortunate to have a drumming workshop led by Nav, we learnt all about Diwali, we designed our own mehndi patterns and had henna on our hands, we were able to taste a variety of traditional Indian sweets, we made Rangoli patterns using coloured rice and we were able to dress up in traditional Indian clothes. We had a great day and learnt lots!
Skipping Workshop - November 2020
Art - November 2020
We have been working with Mr Doyle in art to create artwork related to our India topic. We have used different materials and mediums to create a range of work!
Bikeability - October 2020
Fruit Crumble - October 2020
As part of our Literacy topic, Weslandia, we made fruit crumble. We learnt how to peel and chop fruit carefully, as well as how to weigh out ingredients and use the 'rub in' method to make the crumble topping. We then wrote instructions for how to make a crumble.
Macbeth Workshop - October 2020
Home Learning - 28th September 2020
For home learning activities, please sign in to Google Classroom using the instructions in the letter that was sent home on 10th September. This letter is also on the website under the 'Children's Area' tab. Log in details can also be found on stickers in your child's planner. Should you have any difficulty accessing Google Classroom, please contact school. Thank you.
6M's Work of the Week 25.09.20
Well done to Ella for her brilliant piece of writing describing her 'new fruit'. She has used a range of conjunctions and lovely vocabulary to create a picture in the reader's mind. She has also presented her work beautifully. Well done Ella!
6S's Work of the Week 25.09.20
Well done to Lucia who has produced some fantastic English work based on our story of Weslandia. She has used some well-chosen vocabulary to describe her 'new fruit' well.
Well done to Aimee for producing a detailed paragraph about healthy diets as part of our Science topic, The Healthy Body. Her ideas were explained very well and in detail.
Spellings
For a test on 28.09.20
your

you're

stationery

stationary

practise (verb)

practice (noun)

advise (verb)

advice (noun)

devise (verb)

device (noun)
6M's Work of the Week 18.09.20
Well done to Maisie for her fantastic letter that she has written this week. She really understood our word of the week 'empathy' and showed this in her writing. Maisie went to read her letter to Mrs Sutlow and 6S who were equally impressed! Well done Maisie!
6S's Work of the Week 18.09.20
Grace and Ebony have created some detailed and informative posters about blood and the functions of each part of our blood. They were able to share their work with Mrs Moran and 6M. Well done to both of you!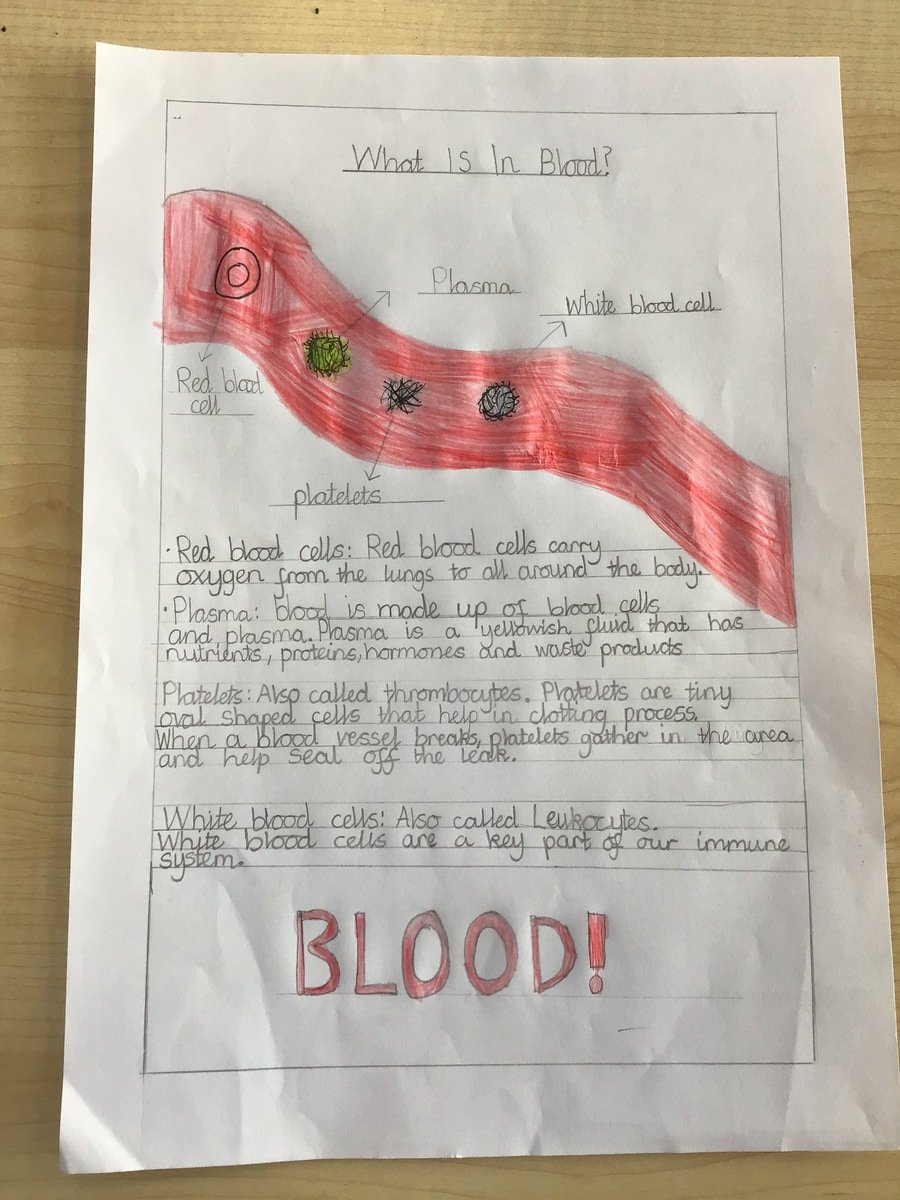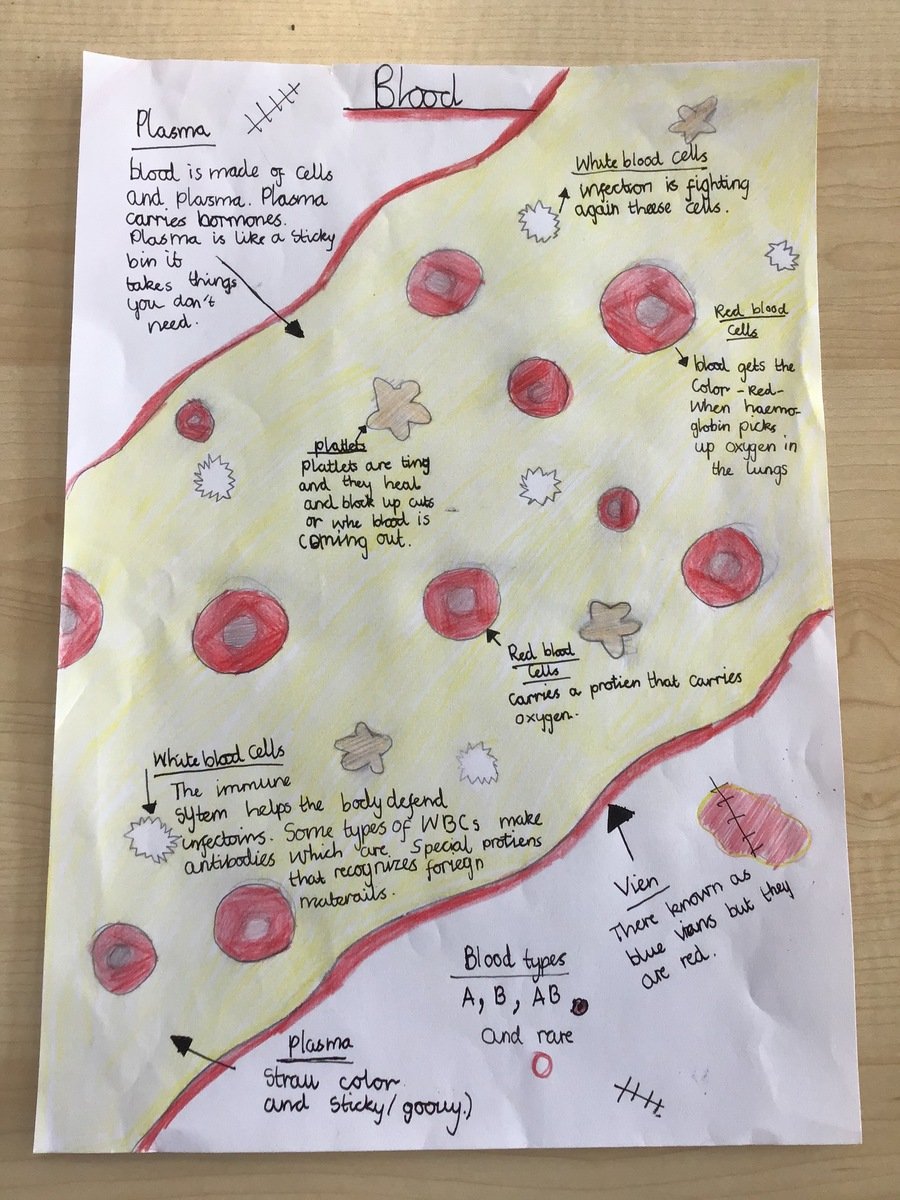 Science- Healthy Body
In our Science topic for this term, we have been learning about blood, what is in blood and the function of the different parts of the blood. We learned about the job of the white blood cells, the red blood cells, the plasma and the platelets. We replicated blood and it's different parts by making 'blood soup'. This was lots of fun but very messy!
Art
We have been learning about the artist, Roy Lichtenstein, who created pop art in the 1960s. His work inspired us to create portrait pop art pieces of ourselves. These have been displayed in the classroom to form an 'Our Class' display. They look very effective together.
Maths
Over the past few weeks, we have been focusing on place value in Maths. We have investigated how each column of the place value grid is ten times larger than the last moving from right to left, starting with the ones column and ending with the millions column. We use base ten equipment to show how there are ten ones in a ten, ten tens in a hundred, ten hundreds in a thousand, ten thousands in ten thousand, ten ten thousands in a hundred thousands and ten hundred thousands in a million; this is why it is called base ten equipment, because it is all based around the number 10! Using the base ten equipment, we worked out that one million one cubes would make a metre cubed - we even built this in our classrooms!
Our First Week!
In our first week of Year 6, we read the book 'While We Can't Hug' by Eoin Mclaughlin and Polly Dunbar. After reading the book, we chose empathy as our word of the week. We discussed its meaning and how we could all learn to empathise better with our friends and family. We have discussed how we can still show that we are there for each other even though we may be physically unable to touch. We have also talked a lot about friendship qualities and what we would want to find in a friend. We have written acrostic poems about friendship and recipes for the 'perfect friendship'.
Some children have coped with lockdown and the changes we're experiencing better than others so we have written letters of reassurance to the younger children in our school who may be worried.
We are very proud of our children and how they have coped with returning to school. We are very much looking forward to the school year ahead!