Meet the Year 6 staff
Mrs Sutlow

Mrs Moran

Y6 Teacher

Assistant Head

Y6 Teacher
Greater Manchester Year 6 Mock Trial Competition - June 2022
Some Year 6 pupils had an amazing opportunity to take part in a Mock Trial Competition at Hemsley House in Salford. They did brilliantly and had a fantastic day!
A Night at the Museum - June 2022
As part of our open week, Year 6 created a display for the exhibition about Alan Turing and Emmeline Pankhurst.
The Queen's Platinum Jubilee - May 2022
To celebrate The Queen's Platinum Jubilee, we have taken part in a variety of activities. Please see the video and photos below.
One Adventure - May 2022
As part of Mental Health and Wellbeing Week, Year 6 conquered the climbing wall and hit the target with their archery skills!
Outdoor Elements - May 2022
Year 6 had a fantastic day at Outdoor Elements near Burnley - have a look at what we got up to below!
Red Carpet Event - February 2022
Today, 9 Year 6 pupils were presented with their Times Tables Rockstars lanyards for completing their 7, 8 and 9 times tables. They have been working very hard and have shown great determination - well done!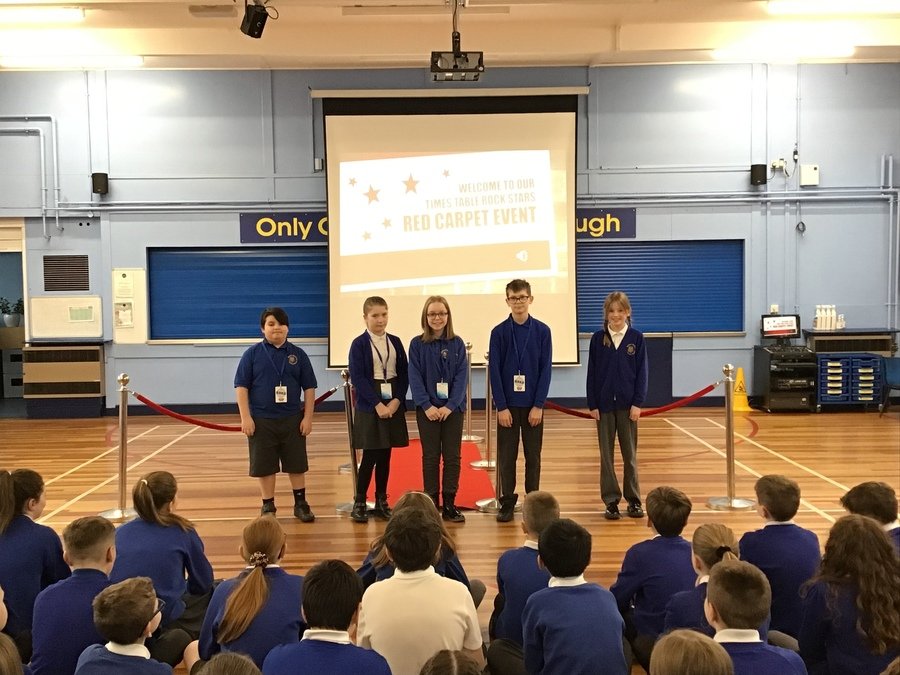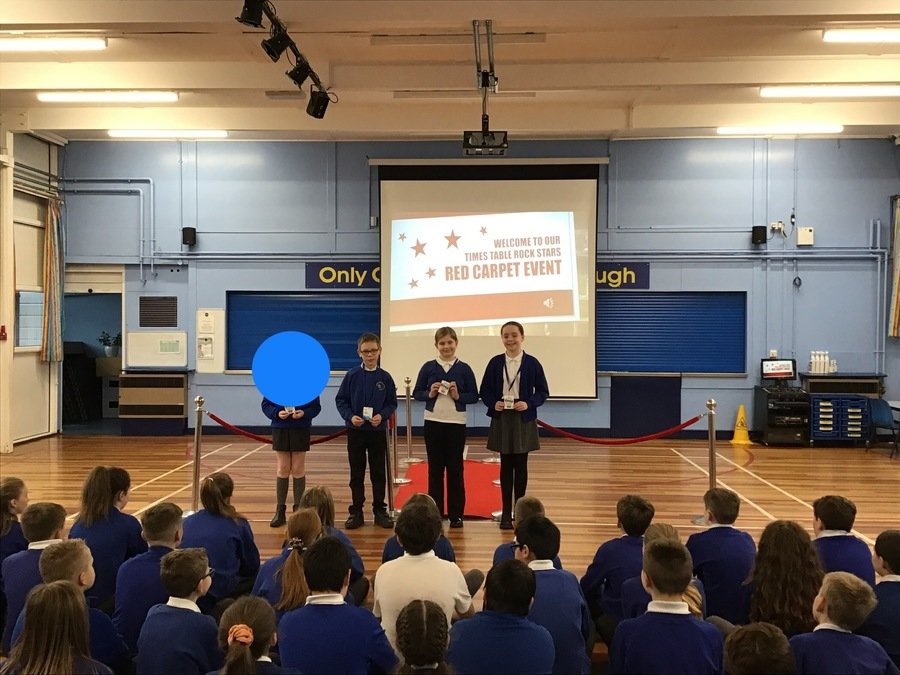 Art
November and December 2021
This term, Year 6 have been working with our resident artist, Mr Doyle. He has taught us how to use our knowledge of Hindu gods and goddesses to create a symbolic image to represent a chosen god or goddess. We used the media of paint and ink to produce a final piece of art. We are proud of our art work. Thank you Mr Doyle!
Macbeth Playscripts
November 2021
In Literacy, we have been learning about Macbeth. We had a visit from the Young Shakespeare Company who performed the play for us. We have done lots of work in our topic, including writing our own scene for the play. We also performed our playscripts, focusing on our expression and acting skills. Here are some for you to enjoy.
Electrical Circuits
November 2021
As part of our Science work about electricity, we used electrical components to create circuits to investigate the brightness of a bulb. We found that the more cells, the brighter the bulb and the longer the wire, the dimmer the bulb (due to greater resistance). We have also been learning how to draw circuits using the correct symbols to represent electrical components. We have enjoyed learning more about electricity.
India Day
November 2021
As the finale to our topic, we have had an India day! We have been learning about the geography of India (in particular the River Ganges), as well as learning about Indian art and Hinduism.
Throughout the day, we took part in lots of different activities including learning about Diwali, creating origami lotus flowers, a drumming and dance workshop, henna tattoos, dressing in traditional Indian clothing, sampling Indian sweet treats and creating Rangoli patterns with rice. We had a great day!
Crowden River Trip
October 2021
As part of our Geography topic about Rivers, we went on a trip to Crowden to carry out some fieldwork. We had a great day (despite the rain!) and learnt lots about the features of a river. We spent a lot of our time in the river, measuring the depth, width, temperature and flow of the water, as well as discovering some creatures and classifying them using a key. It was great to see the features of the river in real life - it helped us to understand them better!
Red Carpet Event
On Friday 22nd October, we had our first Key Stage 2 Red Carpet Event. The children in Year 6 have been working hard on their 7, 8 and 9 times tables this half term. Well done to those children who have achieved their lanyards!
Negative Numbers
We have been using models and images (number lines, thermometers, Numicon and number rods) to help us to understand our work on negative numbers. In this topic, we have been learning to understand the patterns in the numbers, the value of negative numbers and how to find the difference between positive and negative numbers. We have been impressed with Year Six's explanations and use of language.
Making Crumble!
October 2021
On Monday 11th October, we received a special message from Wesley who we heard from at the start of our Literacy topic. He needed our help as he wanted to create a tasty fruit crumble to impress his nosey neighbour, Mr Grump. He only had a basic crumble recipe and needed us to test it out and then write our own recipes which he could adapt to include his very own fruit, the swist. We had great fun creating our crumbles and were very good at peeling and chopping the fruit, keeping our food safety skills up to scratch! The crumbles looked delicious; hopefully they tasted as good as they looked!
Macbeth Workshop - The Young Shakespeare Company
October 2021
In Year 6, we will be focusing on Macbeth in Literacy after half term. We had a workshop with actors from the Young Shakespeare Company who retold the story of Macbeth to us. We were able to get involved with creating sound effects and some of us were even given parts to act out. We thoroughly enjoyed the workshop and are looking forward to our new Literacy topic.
Assembly from the Headteacher of Denton Community College
October 2021
On Monday 4th October, we had a special visit from Mr Rule, headteacher of DCC. As Tameside high schools have been unable to hold open evenings this year, Mr Rule wanted to come in and talk to us about DCC and about high schools in general. It was really good to be able to ask him questions and he definitely made us feel better about some of the changes to come!
Black History Month Drama Workshop
October 2021
To start our learning during Black History Month, we took part in a drama lesson where we learnt about Black History and how things have changed through time. We learnt about key figures, including Rosa Parks and acted out key moments in their lives.
Science - Making Blood!
September 2021
As part of our Science topic, Healthy Bodies, we have been learning about the different components of blood and the part that each component plays in our bodies. We used different things to represent the 4 main parts of blood: diluted orange squash as plasma; mini marshmallows as white blood cells; cereal hoops soaked in food colouring as the red blood cells; and rice as platelets.
We also learnt about different blood types and blood donation. We then created posters to showcase our learning.
Mini Whistlers
September 2021
We were very fortunate to have Trevor and Nigel (actual FA referees!) join us for two days to teach us all about refereeing. We learnt about respect and why it is important in not only football, but everyday life.
We learnt about different flag positions and had the chance to put our skills into practice in mini games.
Welcome to Year 6!
September 2021
As part of our start to the year, we have created individual targets to try and achieve this term. Our target displays are World War 2 themed to fit with our history topic later in the year.